Submarine Safaris - Tenerife
You'll love visiting Tenerife's underwater world without getting your hair wet!
Submarine Safaris is Best For
Directions to Submarine Safaris
Are you looking for unusual things to do in Tenerife? Try this!
There's nothing ordinary about a Submarine Safari excursion, that's for sure. With only 15 commercial submarines in the world, there aren't too many places where you have the chance to explore the deep without getting wet.
Fully air-conditioned with normal atmosphere pressure you dive to 30m (100ft in old money), and settle on the seabed. You'll have your own large porthole with non-reflective glass, this is a proper Submarine... not a glass bottomed boat!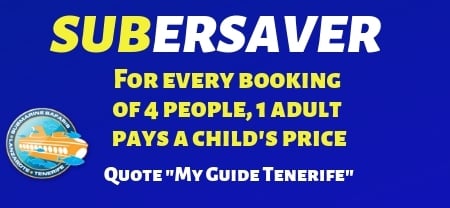 Halfway through the dive you will be joined by the Submarine Safaris Tenerife diver to bring on the stars of the show...a family of 6ft Atlantic Stingrays. There's something surreal about watching a human feeding and playing with these giants of the ocean in their natural habitat... cameras at the ready... a WOW moment indeed!

Get up close and personal to rays, eels, barracudas, flute fish and starfish along with shipwrecks. The waters of Tenerife are so crystal clear; the clarity of the ocean is amazing. An experienced (multi-lingual) guide will help to explain the wonders before you.

Every passenger receives an authentic dive certificate to prove they've had this once in a lifetime experience. A guaranteed attention-grabbing story that will stay with you for years. And remember... no wet suit required!

Submarine Safaris is located in the exclusive Amarilla Marina behind Amarilla Golf. However, a return coach transfer is available from all hotels in the main south, west and northern resorts and is included in the price.

Although the submarine dives every day, this is an extremely popular excursion. With room for only 44 on board we recommend booking well in advance to secure a place on this amazing experience.

Pricing

For clients staying in the South of Tenerife - transport is included:
53 Euros for Adults
32 Euros for Children (2 to 14 year olds)

For clients staying in the North of Tenerife - bus tour and free time in the South of Tenerife is included):
65 Euros for Adults
39 Euros for Children (2 to 14 year olds)
Take a Virtual Tour of the Submarine!
Address: Amarilla Marina , Torre de Control , South Coast, 38639
View Larger Map